Charities Red Wing, MN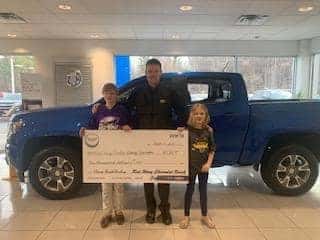 At Red Wing Chevrolet Buick, we take immense pride in the high quality of our products and services. But we realize that it takes more than great cars to sustain an extraordinary, vibrant community such as ours. And since nothing that we do would be possible without our neighbors, we love giving back.
Our charity work is wide-reaching and diverse so we have a maximum positive impact on our community. We're committed to youth empowerment through our support of the Red Wing YMCA, Youth Outreach, and Youth Hockey. We look after our environment by partnering with Red Wing Environmental Learning Center, and we strive to improve the lives of all of our neighbors through our work with Red Wing Food Shelf and Pay it Forward.
Some of our other charitable partners include:
Red Wing Kiwanis
Rolling River Music Festival
Mississippi Alumination
Goodhue County 4H
Red Wing Royal Ambassador
Red Wing YMCA
Red Wing River City Days
Red Wing Youth Baseball Association
American Red Cross Blood Drive
Hispanic Outreach Program of Goodhue County
Red Wing Area Chamber of Commerce
Make a Wish Foundation
Prairie Island Nuclear Plant Golf Classic
Field of Honor
Red Wing FFA
Animal Ark
Red Wing High School
Red Wing High School Booster Club
Ruffed Grouse Society
Goodhue Class
Ducks Unlimited
Pierce County Veterans Association
Wounded Warriors
Red Wing American Legion
Fraternal Order of Police – River View Lodge #7
Golden Kiwanis of Red Wing
Red Wing Holiday Stroll
Red Wing Booster Club
Red Wing Police Benevolent Assoc.
Red Wing Band Boosters
Red Wing Youth Hockey
Aces Baseball Team
Red Wing American Legion
Safety Net
We love finding the right vehicle for each of our customers, but we know that this alone isn't enough. We are grateful for the place we call home and our charitable work is our way of saying "thank you" to a community that brings so much joy to us.